Urban Solutions, Inc. in association with the Detroit Empowerment Zone and Silhouette Media presents the release of "Seniors at Risk: Sex, Drugs and HIV."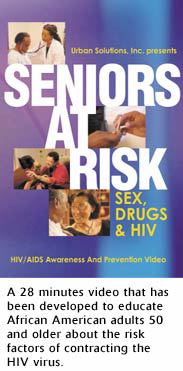 Seniors at Risk: Sex, Drugs, and HIV is a 28-minute video that has been developed to educate African American adults 50 and older about the risk factors of contracting the HIV virus. Many people mistakenly believe that age is an immunity to HIV/AIDS. According to the Center for Disease Control and Prevention seniors are being infected every day. In the five years between 1991 and 1996, reported cases of AIDS rose by 22% for adults aged 50 and older? The National Association on HIV Over Fifty indicates "HIV/AIDS educational campaigns and programs are not targeted at/to older individuals."
Urban Solutions used a community-based participatory approach to develop the Seniors at Risk: Sex, Drugs, and HIV video. The process included health professionals, advocates, seniors, and HIV carriers. The goal was to produce a video to help reduce the spread of HIV/AIDS among adults, aged 50 and older (seniors). This video is aimed at:
increasing the knowledge base of seniors about HIV and AIDS ;
increasing the perceived seriousness and susceptibility of the disease;
increasing the viewer's ability to recognize HIV/AIDS risk behavior;
help encourage adults 50 and older that may be at risk of contracting HIV to get tested, and;
serving as a tool to pass on the seriousness of HIV/AIDS, along with ways to protect oneself against the risk factors.
The Seniors at Risk: Sex, Drugs, and HIV video includes comments from noted experts in the field and candid re-enactments and demonstrations. Learn to recognize the Downlow, the Commercial Sex Worker, and other HIV/AIDS risk factors. The video also comes with a viewer's guide, pre and post-test, and discussion questions to help HIV/AIDS professionals, paraprofessionals, advocates, and peer educators lead effective group dialog and enhance the educational opportunity.
The Seniors at Risk: Sex, Drugs, and HIV is available on DVD. Copies of Seniors at Risk: Sex, Drugs, and HIV are with a donation of $25 to Urban Solutions.
View Sample
To receive a copy, place an order online:
Or send a check or money order to:
URBAN SOLUTIONS, INC.
3430 East Jefferson #124
Detroit, MI 48207
or
Derek Allen
202-669-1142
The information in this video is an introduction to the subject of HIV/AIDS. Additional HIV/AIDS and health concerns should always be discussed with your health care professional.
Urban Solutions, Inc. is a Detroit based non-profit 501 (c)(3) organization, that is committed to providing assistance to high school seniors, neighborhoods, families, youth, and senior citizens in urban areas. Program efforts are accomplished through community collaborations and the implementation of organizational expertise. We have four main programs:
A College Scholarship fund for students that have proven themselves academically and demonstrated a commitment to the community.
Technical Assistance to community-based organizations.
Youth programs to build self-esteem and pride, and
Advocacy for community health issues.