Mission Statement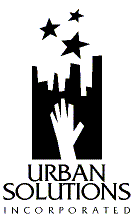 Our mission is to create solutions for our youth and our community; in keeping with our motto: "Solving Tomorrow's Problems Today"
Objectives
Actions taken today, yield results of this 21st century.

Every 12 seconds in America a child drops out of school.

Every 12 seconds a child in America is reported abused

or neglected.

Every minute a teenager has a baby.

Every 9 minutes a child is arrested for a drug offense.

We have the power to stop this. How? One child at a time.
What is Urban solutions, Inc.?

Urban Solutions, Inc. is a Detroit based non-profit 501 ( c)(3) organization, that is committed to providing assistance to high school seniors, neighborhoods, families and youth in our Urban Area. Program efforts are accomplished through community collaborations and implementation of organizational expertise.
We have four main programs:
1. A College Scholarship fund for students that have proven themselves academically and demonstrated a comment to the community.
2. Technical Assistance to community based organizations
3. Youth programs to build self esteem and pride.
4. Advocacy for community health issues