HISTORY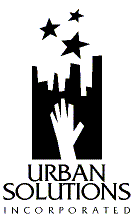 1982 – The scholarship was established by the family of Pressley Green, a successful business man in the community, after he was brutally murdered by several misdirected young men, lost in the wrong pursuit of life. The scholarship is given in Mr. Green's honor because he realized that dedication and determination had to be rewarded. Mr. Green took it upon himself to personally finance the education of several young people who were determined to reach their goals. We continue to give this scholarship to students that have proven themselves academically and shown dedication to the community
1995 – Urban Solutions, Inc., a non profit corporation received the IRS designation of 501 (c) (3). Community leaders realizing that we must take action today to protect our future joined us in our effort to expand our services city wide. Working in collaboration with other community committed organizations such as Mayflower Congregational United Church of Christ, Warren Conner, Communities in Schools of Detroit, Butzel Family Center, Wayne County and Optimist International allows for new programs that continue our motto: "Solving Tomorrow's Problems Today"
1996 – Several grants helped to support our programs at Butzel Family Center, such as the 3 on 3 basket ball program and the mega Safe Halloween for Youth Event.
1998 – The Urban solutions, Inc. received a $30,000.00 grant from Warren Conner through the Rebuilding Communities initiative to be used by community based Organizations in the empowerment zone. We expanded our scholarship program by adding a city wide scholarship. Book awards were given. From the many testimonies we have received, we know that we have helped the lives and careers of many students and we will touch many more.
2000 – Education continues to dominate our efforts to give our young people the best possible chance for a better tomorrow and more teachers will be needed. This is why Urban Solutions, Inc. will award a scholarship to a young person that selects teaching and education reform as a career choice. The grant funds from Warren Conner were increased to $45,000 to continue the effort in the community.
2001 – Grant funds from Warren Conner Development Coalition increased to $100,000.00 for the continuation of the community assistance and development program.
2002 – The CDC reported a rapid increase in the occurrence of HIV/AIDS among adults aged 50 and older. Despite myths and stereotypes, studies show that many seniors are sexually active and some are IV drug users; therefore, their behavior can put them at risk for HIV/AIDS. Most of the prevention and educations funds are directed to the younger populations, rather than seniors. With a $50,000.00 grant from the Detroit Empowerment Zone, Urban Solutions, Inc. produced a user friendly, age appropriate video "Seniors At Risk, Sex, Drugs and HIV.
2003 – Urban Solutions, Inc. received the International Crystal Award for this video.
2005 – With a $50,000.00 grant from the City of Detroit, seniors were trained to talk to other seniors about the prevention of HIV/AIDS. This award winning video is now used as a peer advocate teaching tool for seniors on the prevention of HIV/AIDS.
2006 – Urban Solutions, Inc. is licensed by the State of Michigan to provide prevention outreach to the community. Our Drug Prevention program is designed to address the concerns of our youth as it relates to abuse of drugs, tobacco and health.
2008 – With a $15,000.00 grant from Detroit Area Agency on Aging, the senior peer advocate program continued training seniors to talk to other seniors about the prevention of HIV/AIDS.
2011 – In collaboration with youth from YouthVille, Urban Solutions, Inc. provided an in depth drug and HIV prevention program targeted to youth. The youth in turn produced a Public Address announcement on the dangers of drug abuse and the prevention of HIV. This video is written, filmed and edited by the young people with direction from Urban Solutions, Inc. and YouthVille. Urban Solutions, Inc. received a $50,000.00 grant to teach our youth on these dangers and produce this PSA.
2013 – Urban Solutions, Inc. expanded the scholarship with the help of the community and awarded $10,500.00 in scholarships to young freshmen in college in 2013.